How It Works
Step 1: Create a Room
To start using Buzzonk, create a room. A room is just a unique URL for you and your players/contestants/participants/students. By creating a room, you are automatically made the "host". As the host, you can adjust the buzzing mode and configure the buttons, timers, and scoring. You can see all the players, allocate points, call on players, lock the buzzers, reset them, etc.
You're also made a player, so you can buzz in like everyone else (but if you're only hosting, and not playing, you can ignore that part).
Step 2: Distribute the Room URL
Players, contestants, participants, or students can join your room by going to your room URL. They don't need to register, or provide any personal information to join. You can send your players the URL using any mechanism you want (email, instant message, posting on your website). It's just a URL. You can post it anywhere (but keep in mind, anyone who has the URL can join your room).
Step 3: Buzz Away
With your room configured to your liking, and all your players present, you are set. Players can press their buzzer to buzz in, and you'll be notified instantly. Then reset the buzzers, and repeat.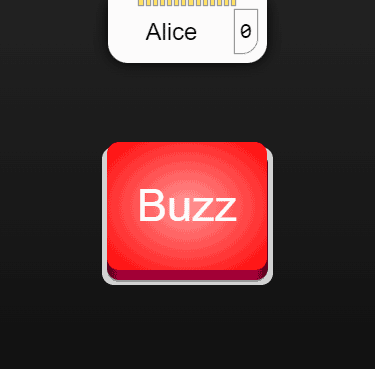 The player interface shows the player's name, score (if enabled), the current timer (if enabled), and the buzzer button (or buttons). When the player is called on, their screen lights up and (optionally) plays a sound. It can't get any easier for your players!